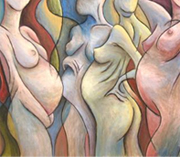 Contact me

For more information about painless childbirth or HypnoBirthing® please call me on 0771 2820783 or use the contact form below
Updated November, 2014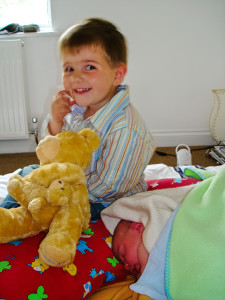 We had our first son in the maternity unit at Chipping Norton Hospital but, with support and reassurance from Lou, we chose home births for our other children and it was the most wonderful thing we could have done.
It felt like such an enormous step the first time around.  My first labour had been long and a bit tricky.  We heard horror stories from people and we were left in no doubt that even my own mother disapproved of our choice.  But Lou had faith in us and that gave us faith in ourselves which outshone all the negativity. We both feel incredibly lucky to have made that decision and we know that we wouldn't have done it without Lou.
We had 3 truly amazing home births and feel priviledged to have been looked after magnificently by Lou; before, during and after each one. Having a baby at home, with people you love around you is an incredible experience.  We chose to let our children join us for the births, if they wanted to.  On each occasion, the baby arrived watched by a fascinated audience of older siblings.  These children have no fear of childbirth, no anxst about babies appearing mysteriously or resentment that their brothers and sisters were magicked from nowhere.
People sometimes look shocked when they hear that the children watched the deliveries of the other babies.  They worry that young minds could be traumatised by the experience.  Nothing could be further from the truth.  They have understood where the baby has come from, been very clear that it can't be "put back" and relished the opportunity to play their own roles in the birth.  Whether it's been helping to cut the cord or lay out absorbent mats, they have felt included and valued.
Lou's calm approach and committment to natural birth reassures the entire family. She inspired confidence in us all and she will always hold a very special place in all our hearts.  If you have read this far, I'd guess that you are thinking seriously about choosing Lou to support you and your family while your baby is born.  Words cannot properly express the joy and wonder of a new baby arriving in your life with Lou's phenomenal support and I can't imagine how different our birth experiences might have been without her.
Updated October, 2014
I had wanted to have all my children at home, but after my first was born ten years previously by emergency caesarean (as a consequence of a failed induction), the consultants at the John Radcliffe put great pressure on me to have my second child there (and said, matter-of-factly, that they would be happy to give me an elected caesarean if I would like). I couldn't have wanted anything less. In the end I laboured there but with my local midwife in charge, and had a natural birth with no intervention. When I became pregnant with our third child, I came under more intense pressure to have my third in hospital. I made an appointment to talk it over with Lou. She clearly explained what my rights were, the pros and cons of birthing in different settings and together we decided that I should have a homebirth. I was 42, had had a previous caesarian and the baby was over two weeks late (as all the others had been). Lou monitored me carefully and confidently. I gave birth to Elliot in a birthing pool at home – it took four hours and was the easiest labour. Lou was everything you would wish for – extremely knowledgeable and experienced, supportive and in control.
I believe in decades to come we will be judged as the generation who lost the skills, instincts and confidence to labour naturally. Had I not had expert advice from the community midwives, confident in what a natural birth is, I would undoubtedly have had three caesarians, rather than one. I am eternally grateful to Lou for helping me have the experience I had wanted. I can now pass on my story to my children – as my mother passed on hers to me. I cannot recommend Lou more highly- she is an exemplary midwife.
Updated August, 2014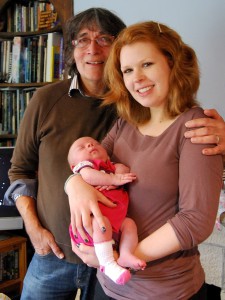 My husband Chris, and I were fortunate enough to have Lou at the birth of both of our daughters. When I went into labour in August of 2011 we were over joyed to know it was Lou who would be present at Florence's birth. Having had some of our antenatal appointments with her we knew we felt totally at ease in her presence, assured by her experience and understanding but also confident that she was respectful of our choices and of birth itself, we both found her to be extremely knowledgeable and personable.
It was an overwhelming experience, as it is for any new parents but the whole experience was entirely euphoric and empowering. Lou was attentive and intuitive to our needs and wants. She provided an ideal environment in which to give birth. I had a very peaceful experience with minimal pain and at no point did I feel scared. I felt safe and in control the whole time. Lou was an unobtrusive yet vigilant and supportive presence. My labour progressed naturally and quickly as I felt comfortable and relaxed and entirely confidant in my body's ability.
We had previously told her I wanted to deliver in the pool. We arrived to a warm pool, oils, music and gentle lighting, everything a newborn baby deserves. There was no rush, bright lights, loud noises or frenzy. I was enabled to move into any position with comfort, we had immediate skin to skin and breastfeeding was initiated almost immediately. This I know contributed in large part to the success I have had with long term breastfeeding. Graces birth in March of 2014 was also a beautiful and spiritual experience. Again it progressed quickly and peacefully in a birth pool at home and she was delivered into her mothers hands. Again the cord was not cut until the placenta was delivered. We then went on to have our placenta encapsulated. This was possibly one of the best decisions we have made. At no point postpartum did I feel exhausted, instead I felt energised, healthy and nourished, it also helped tremendously with breastfeeding. It has been a joyous and remarkable experience.
Lou is a true midwife and 'with woman' in every sense, she is an asset to the profession of midwifery, understands her job as a whole. The experiences we have had could not have been better which in turn puts one in the best position in which to enter parenthood. We cannot speak highly enough of Lou and she has shaped my view of childbirth. One of a beautiful, empowering momentous life event which we shall pass onto our children.
Susannah and Chris King.
Updated August, 2014
27/07/14
To whom it may concern,
I have known Lou for seven years, first as her student and latterly as a colleague and friend.
Lou is without doubt one of the most educated, professional and compassionate midwives I have ever had the pleasure to work alongside.
As a mentor she taught me an incredible amount during my three years of training. Her wisdom extends far beyond the clinical, she taught me about the human and spiritual elements of midwifery, the aspects not found in most text books. Lou is a teacher without ego and as such was able to not only educate me by showing me all the practical skills I would need to be a good midwife, but also gave me the confidence to spread my wings and find the midwife within me. All of this enabled me to graduate and transfer my learning across the world to America where I currently practice in a very challenging system. I am grateful every day for the excellent training I received from Lou, and use the wisdom, skills and confidence she passed on to me to serve women here and help them believe that birth is normal.
As a colleague she continues to inspire me with her passion for keeping birth normal wherever possible and her dedication to a woman's right to birth in the way that she feels is right for her and her family. The word 'Midwife' means 'with woman' and no one personifies this better than Lou. She hears women when others don't listen, she trusts women's instincts when others doubt, she advocates for women when others waiver. All of this is underpinned but a wealth of experience in all birth settings and an excellent clinical skill set that ensures, on the odd occasion that birth throws a curveball, she is able to address any complications to keep both mother and baby safe. I have the utmost confidence in Lou as a midwife and have asked her to care for my own daughter for both of her births.
On a final and more personal note as a friend I feel Lou to be one of the most courageous and principled women I have ever met and to have her care for you and be in your corner though your journey is a true blessing.
Victoria Edwards RM CPM