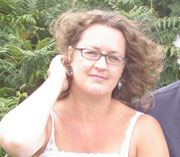 Contact me

For more information about painless childbirth or HypnoBirthing® please call me on 0771 2820783 or use the contact form below
Updated July, 2015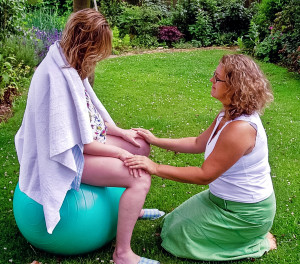 About Lou
Thank you for taking an interest in my site, I feel it is important for any family who may be considering my services to understand why I have become an Independent Midwife and my personal philosophy and vision…………… so here is my story.
I am a Midwife. I will always be a Midwife. I could not not be a midwife.
I trained 20 years ago in Oxford and I have been a practising midwife in a community setting – this being the best place to provide continuity of care – the midwife-mother relationship evolves and this enables the mother to look back upon her birth (by whichever mode baby chooses) as an empowering start to parenting and future family life. I truly believe that this relationship nurtures the autonomy of mother and midwife. I feel truly blessed to have served the community in which I live – it is the fundamental building block of life. I have recently been rotated to a high risk delivery place setting.
Birthing at home or in a free standing birth centre should be the default place of birth for all low risk women. The consultant led units are then enabled to provide better care for the women with deviations from the norm – however – continuity from a named midwife is still needed – a friendly known face in an unfamiliar environment.
So…. lets establish why the midwife is so important. Midwives are unique in their combination of sensitivity, skills and training to be 'with woman'. As a society we must reclaim our birth rights – we seem to have lost our way somewhat. The dominant industrial model means that care is increasingly fragmented and the manifestation of the present fear of birth seen amongst both the general population and professionals. This is so sad as birth has never been safer. We need to develop a culture that shares and builds on women's anticipation of a happy and safe pregnancy and birth – instead of fuelling their fears.
I am a firm believer that how, where and with whom you give birth lives with you forever and I want to make it as good as I can.
Having worked relentlessly for the NHS and being unable to provide the uninterrupted continuous care that women and families deserve I have decided to embrace Independent Midwifery. For many years I have deliberated and dipped into an 'Indies' world – but having been committed to the concept of the NHS I practised happily in the community setting. However the constraints of a delivery suite setting conflicts with the midwives role of supporting women to achieve normal birth. The Better Birth initiative being implemented by the NHS is modeled on independent midwifery practice, but will not provide the 1 to 1 care that an independent practice will.
Ideally I would love to see groups of like minded midwives join forces – currently much work is being undertaken in order to provide this concept of care where the woman remains the central focus and is sustainable and cost effective. One such group is Association of Radical Midwifes (ARM).
I have designed several care packages. This is my vocation. Unfortunately I also need to earn a living ! However please do not let the fees stop you from contacting me – I will endeavour to undertake a certain amount of pro bono work – this fits in with my social conscience. I was teenage lead in the community and I welcome this group of young women to contact me for further information/guidance. I am a member of IMUK and am fully insured and work with other Independents to provide back up/second midwife when required.
I very much look forward to meeting my new families or families to be in the near future!
My Qualifications are….
BSc Midwifery (Hons), Oxford.
Independent Midwife – Member of IMUK
Member of the Advanced Life Support and Resuscitation Council
Paediatric Examiner of the Newborn
UNICEF Breast Feeding Accredited
Member of IPEN
Member of ARM
HypnoBirthing Practitioner
Accredited Antenatal & Aquanatal Teacher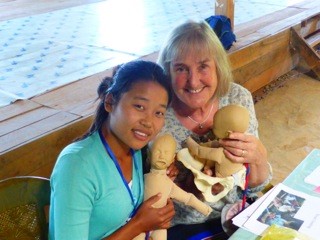 Helping the Burmese Delta
Lou has been working for years in Myanmar (Burma), usually going once or twice a year. In Myanmar, alongside Frances Barnsley, a midwife for 40 years, she teaches Midwives and mostly Traditional Birth attendants in very remote areas, which involve long drives over the mountains, no roads and then 9 hours on the back of a motor bike through the mountainous jungle. There is no medical care for the women so there is a high maternal and baby death rate. In Mongolia most women travel long distances to a hospital which is poorly equipped. Frances and Lou teach basic care for birth and what to do in emergencies, which can be life saving.
To learn more about the charity Helping the Burmese Delta, please see their website here.