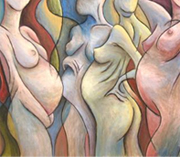 Contact me

For more information about painless childbirth or HypnoBirthing® please call me on 0771 2820783 or use the contact form below
Updated August, 2014
27/07/14
To whom it may concern,
I have known Lou for seven years, first as her student and latterly as a colleague and friend.
Lou is without doubt one of the most educated, professional and compassionate midwives I have ever had the pleasure to work alongside.
As a mentor she taught me an incredible amount during my three years of training. Her wisdom extends far beyond the clinical, she taught me about the human and spiritual elements of midwifery, the aspects not found in most text books. Lou is a teacher without ego and as such was able to not only educate me by showing me all the practical skills I would need to be a good midwife, but also gave me the confidence to spread my wings and find the midwife within me. All of this enabled me to graduate and transfer my learning across the world to America where I currently practice in a very challenging system. I am grateful every day for the excellent training I received from Lou, and use the wisdom, skills and confidence she passed on to me to serve women here and help them believe that birth is normal.
As a colleague she continues to inspire me with her passion for keeping birth normal wherever possible and her dedication to a woman's right to birth in the way that she feels is right for her and her family. The word 'Midwife' means 'with woman' and no one personifies this better than Lou. She hears women when others don't listen, she trusts women's instincts when others doubt, she advocates for women when others waiver. All of this is underpinned but a wealth of experience in all birth settings and an excellent clinical skill set that ensures, on the odd occasion that birth throws a curveball, she is able to address any complications to keep both mother and baby safe. I have the utmost confidence in Lou as a midwife and have asked her to care for my own daughter for both of her births.
On a final and more personal note as a friend I feel Lou to be one of the most courageous and principled women I have ever met and to have her care for you and be in your corner though your journey is a true blessing.
Victoria Edwards RM CPM